Making money from Instagram is a super cool and fun thing to do, in fact, which can increase your income dramatically by using your free time.
In this post, I'm going to show you how you can use Instagram as a tool to make money without hiring any marketing nards.
Let's go.
There are various ways you can make money from Instagram, but if you can focus more on specific goals, you can reach your goal faster.
Here is a list of ways you can make money from Instagram easily.
Ways to make money from Instagram.
Become an affiliate and make money selling other people's products.
Sell your own physical products.
Sell your own info products
Posting Promotion Ads
Posting Promotion stories with links
Selling your Bio links for a limited period of time
Creating content for others
Being a Virtual assistant to other Instagram pages
And there are many more.
What I want from you is to focus on 1 or 2 and try to build the audience at the beginning.
At this stage, the most difficult part is being consistent. You have to be consistent in posting your content.
What I do was, when I'm creating posts, I create like 10 to 15 posts and schedule them.
There are ways you can schedule the posts, I use Later
If you are not a designer you may feel difficult at the beginning but it is really really easy.
Canva makes it easy. I use Canva for various reasons.
Can access anywhere.
Huge library of graphics
No need to download all the infographics to your Hard drive.
Premade Templates are available
Easily sharable your templates and you can use other creators' templates
Mostly Free
You can keep all your branding assets organized
You can redesign in few clicks
You can create a team, add members and assign roles
Schedule your content
I hope I have a point on using Canva to create your content.
Now you can make Content, but How you can make more Followers. Here are some Tips and Tricks.
Tricks to Make More Instagram Followers
Before begins, the number on your Instagram following ultimately means nothing if it doesn't represent an engaged fan following that makes purchases, visits your landing pages, and advocates for your brands with friends and followers.
So here are my Tips and Ticks
Optimize your Instagram account:
For the optimization, you can focus on these
Bio
Profile picture
Branding (don't use more than 2 colors and shades)
Here is a perfect Profile optimization from Niti Sarran.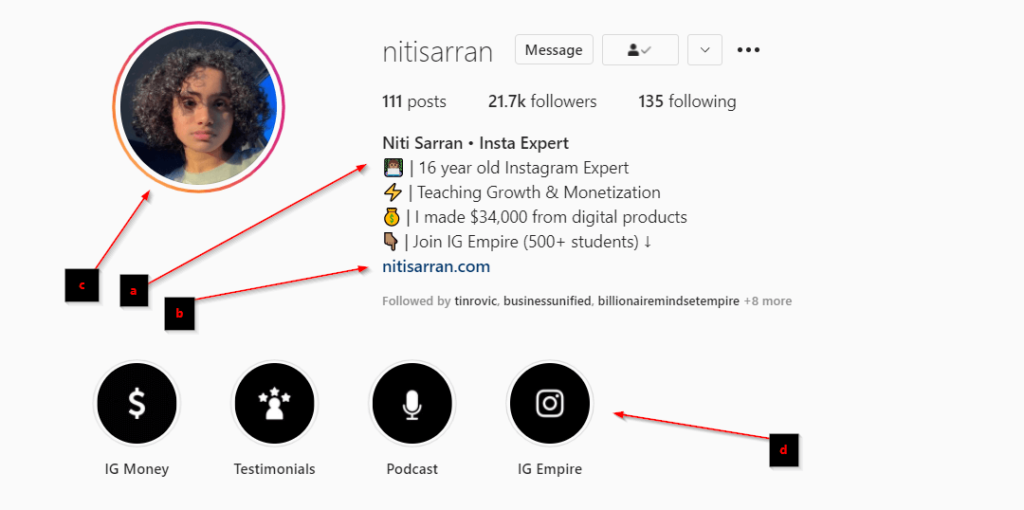 Keep it consistent and Schedule all the posts
Posting random is the worst thing you can do to your page growth. Throughout the world per day, Instagram gets 200 million login requests. 
And to schedule your content you can use Later as I mentioned above.
Find the best Content your Followers want by Analyzing your Profile.
Here are statistics about the types of content consumers want to engage.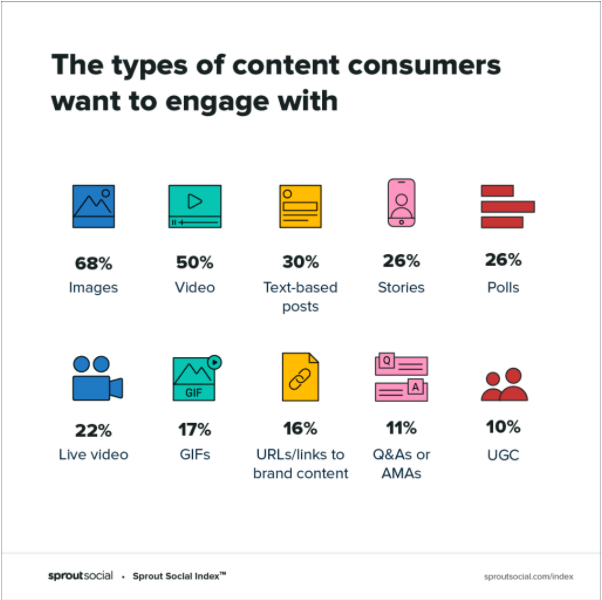 Host Q&A using stories and live story sessions.
Plan this before, let your followers know your schedule, and make it consistent. It will also increase your bond between you and your followers.
Collaborate with other Instagram pages in your niche or related niches.
This is one of the coolest method so far, I found. What you can do is, you can reach through DMs and ask for Shoutout for Shoutout (SO). Most of them will say yes if the follower count is at the same level. Once you did the Shoutout you can reach them and ask them to join your group for Shoutouts. You should have a schedule in place for everyone to join. This way you can grow faster and easier. Also, it will help you to be consistent. More importantly, I have made some cool friends by doing this.
A Surprise for your Growth
If you have been consistent with these tips and methods, there is no way that you can't get more followers.
Now you know how to create content, how you can optimize the page, and how you can get more followers. So What is next?
Having a huge follower and an engaging community is not the goal of your page, right?
You should be making money from the page.
From the beginning of the post, I have highlighted various ways you can monetize your Instagram, and I asked you to focus on not more than 2 ways.
I hope you have chosen your path.
All these tips and tricks I have taken from the Niti Saran IG Empire.  If you want to learn more about every bit of Instagram Growth, that is the only recommendation I have for you. She is living proof of her strategies. She explains her path from 0 to 10k. I cannot explain her Growth Secret strategies in this post.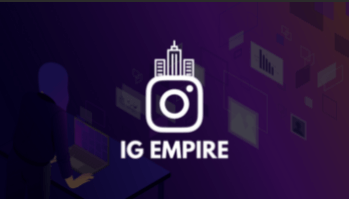 She just turned 16, and she has been managing Instagram pages of branded companies. So why can't you?