For various reasons, people buy retweets.
If you are new to retweets, it is the most powerful feature on Twitter. 
If someone retweets one of your tweets means, that account is sharing your tweet with his followers and he doesn't have to be your follower. 
It is okay to buy Retweets from other accounts, but there are things you need to look at before paying someone to retweet you. 
Before making that decision ask yourself, 
Why you are buying retweets? 
Is that you want to grow your accounts (followers)
Or do you want to drive traffic to your website/landing page? 
The point is, that you should have to have a goal.
Which Accounts you should buy Retweets?
In any case, if you are trying to buy tweets, you should understand the audience of that particular Twitter account. 
You should not buy tweets from anyone. Buy only from an account that has a substantial amount of followers plus the account has to be related to your niche, or the product you are promoting. 
How to buy Retweets? 
If you happen to find an account in which you want to buy a retweet, send a DM and ask whether he is offering that service. 
If you cannot DM him, (because most of the big accounts don't allow anyone can send them a DM) just reply to one of his tweets saying that check the DM, or want a chat. 
Or check that account is having any link in the bio, if you got a link, visit the link and check whether you can contact him/her. 
If you dont want to approach it that way, you can join a community, this is actually the best way to get retweets if you want to. 
Join a community, if that community is about twitter growth and engagement you can easily approach anyone in that community for retweets. 
Here is my suggestion if you are trying to get one. 
Why Retweets, Why Not Likes?
As I said at the beginning, retweets are the most powerful feature on Twitter. Likes are not really pushing the tweets in front of the Twitter followers same as retweets. 
Is there any limit on Retweets?
No, there is no limit on Retweets. Also, there are no limits on Likes either. 
Without Buying Retweets Can I Grow My Twitter Account?
Yes, you can. But you need to have a plan and you need to create valuable content which people love to know and learn from you. 
Growing on Twitter is not only depend on Retweets. I know there are people who have grown their Twitter account from 1-100K within 2 years. 
If you are a person looking forward to growing your Twitter account and building an online income stream, Download My EBook Collection.
Can I Retweet My Own Tweets? 
Yes, this is actually a white hack method, very few used it properly. 
If you are using a Twitter scheduler you can easily set up this.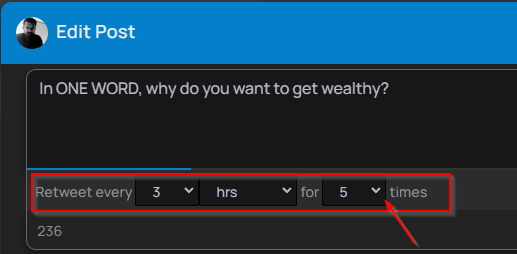 Here is how I have done it for every tweet I send. 
With this setup, My Tweet will retweet every 3 hours for 5 times.
You can use Tweet Hunter or Zlappo to set this. (I use Zlappo) 
How can I get more organic Retweets?
As I said before, if you want to grow your Twitter account you should provide value, if you can do that, people will share (Retweet) your tweets. 
One of the biggest lessons I learned to increase my retweets organically is by learning to write better threads with catching hooks. 
Learn how you can write viral threads hooks here
Conclusion
Yes, you can buy retweets to grow your account, there is nothing wrong with it. But you should know what you want to achieve from it, and you should analyze the account from which you are buying retweets. Dont just buy retweets from bigger accounts, just because they have a bigger following. If you do this, in most cases, it will not give the results you want. 
My best practice will be optimizing my Twitter account and providing valuable content and growing a network of Twitter friends, for this may use a Twitter Growth Community. 
That is it for this post, I hope you like the type of content I am providing. 
For more exclusive and inside stories of growing an online business, join my Newsletter.
---
Whenever you're ready, there are 2 ways I can help you:
To Grow Your Twitter Account? here is all you need to start. (500+ students are learning)

Exact Strategies I used to grow my Twitter account (growing +10K followers/month)

​Get my Favorite 100+ Tweet Templates (700+ creators are using it)

Tweet templates I used gained Millions of Impressions/tweets