I don't want to talk rubbish here,
I don't want to show you any fake hacks,
I don't want you to use Twitter bots,
None of those, you can grow your Twitter account by following the methods I am about to show you.
I use it, even now, right now I have more than 35k+ followers.
Use Engagements from Bigger Accounts
I want you to find 10-20 big accounts in your niche and follow them.
And then Turn on the notification.
Or you can create a Twitter list. It is easy this way when you want to engage/comment on their tweets.
I wrote a detailed guide about the Twitter list.
How to Comment Correctly to get more Engagements:
Make Sure You Don't reply like this:
That is Great
You are Awesome
yes, you are correct
Recap of the tweet
No, it is not how you reply.
Instead, Add Value to that Tweet, here is how:
Add your experience
Share your thoughts or view
Be entertaining
Remember why are you doing this,
You are doing this because you want people to click your profile photo because your reply was interesting.
If you don't know how to write a reply or comment.
Here is what you can do:
Go to the profile of the Big account you are replying to and click "Tweet and reply" you can see how they are commenting.
Here is What I want You to do Next:
After commenting for a while (2–3 days) check your replies, their statistics, how many impressions, and how many profile clicks, that is the important matrix.
You will notice what kind of comments on which accounts do better.
Double down on those.
Do this before you Start Commenting
I know I should have told you this before.
But I kept this last because only people who really want to grow their Twitter accounts will come all the way here.
so here is your bonus tip.
Optimize your Twitter Profile
Here is how you do it.
1. Cover and profile pictures.
It Should be of High-quality.
If feasible, match the color.
Your cover photo should describe you. Get more ideas here
Example: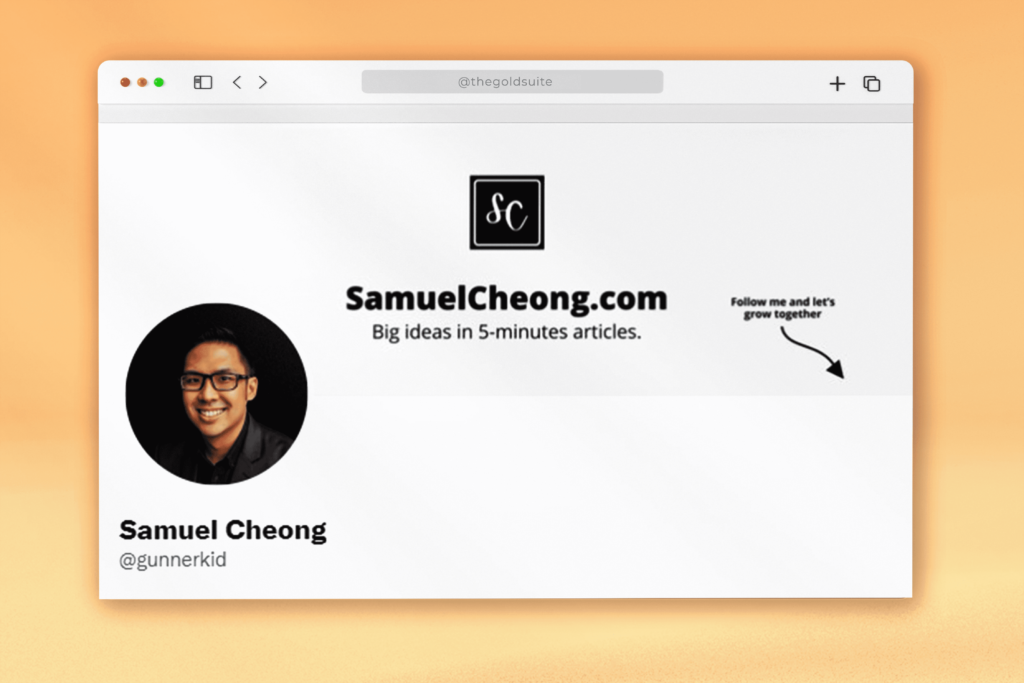 2. Your Bio
Your Bio should answer these three questions:
Who are you
What you do
What you can expect from me
3. Your Pinned Tweet
This is an important tweet, this can be a thread.
Take your time to write a good piece here, because more than 60% of people read/skim what you have written in your pin tweet.
So, it's better to include what your audience wants to see it.
It is your biggest conversion piece.
The hardest part is to get 1000 organically, once you get it, you can go easier if your content is good. You will get followers organically.
But I must say it is worth your time and effort.
I wrote a detailed guide, (some say it is more than a course), you can read it here.
If you enjoyed and find value in this post, you will like my Weekly Newsletter.
I send one Practical Growth Advice Every Friday morning.
Join here.
---
Whenever you're ready, there are 2 ways I can help you:
To Grow Your Twitter Account? here is all you need to start. (500+ students are learning)

Exact Strategies I used to grow my Twitter account (growing +10K followers/month)

​Get my Favorite 100+ Tweet Templates (700+ creators are using it)

Tweet templates I used gained Millions of Impressions/tweets